Host University
NOVA School of Business and Economics, Lisbon
Spring 2019
Organization
As a European Citizen there was no special organization needed.
The CEMS ladies in Lisbon are incredibly helpful and responsive! Whenever you need help with the organization, feel free to reach out to them.
Accommodation
I lived with a NOVA home student in Santos. We had a two-bedroom apartment with roughly 80 m2. Most students lived in shared apartments, as there are not a lot of dorms.
We found our place on uniplaces but the search can be a bit challenging. So, try to look early and reach out to other CEMSies.
Most students live in Lisbon and not in Carcavelhos! I can highly recommend doing so, too. In order to minimize the time needed to get to uni, try to look for a place close to the station Cais de Sodre or Santos.
Expenses
Rent: 400€ – 600€
Food: 300€ – 400€ (in general, food is cheaper than in Vienna and at uni you only pay round 3€ for a full meal)
Public transport: around 40€ per month (I only got the monthly ticket for the train)
Books and course material: –
Fun: you pay around 15€ to rent surf gear, there are cheap buses to Porto, car rentals are also fairly cheap in case you want to do a road trip (highly recommended)
Average beer: 1.50€
Everyday Life
Eating out: Best steak: Atalho Real, Sushi: Sushi Bom, Sushi Factory, Pizza: Zerozero, "Illegal Chinese", Pastel de Nata: Fabrica de Nata
Brunch: Heimcafe, Flora and Fauna
Drinking: Cais de Sodre & Bairro Alto (people get beers in the bars for around 1.50€ and stand on the streets and drink), By the wine, green frog
Sports: Fitnesshut (gym), a lot of surfing! (Carcavelos, Caparica, …)
CEMS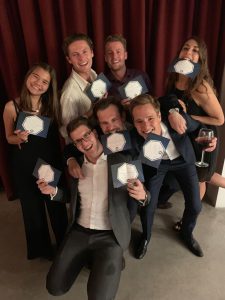 The majority of events take place in Lisbon and not necessarily in Carcavelos; anyway, NOVA organizes some events on campus as well!
The CEMS spirit is outstanding and a lot of fun! CEMSies try to do as much as possible together from sports to weekend trips and also partying in Lisbon. You always find people keen on going to the beach with you after class or for some drinks while enjoying the sunset.
3 Top CEMS Moments:
Surf trip to Alentejo
CEMS gala
Going surfing after class (there is a tunnel from the university to the beach)
Awesomeness
Lisbon is an awesome city with a lot of perks to it! Additionally, it's not very expensive and you can have a great time without spending a fortune. There are great options to party and have some drinks with friends. Especially the atmosphere when meeting in Bairro or Cais for some drinks on the street is incredible. The university is very new and well organized. Plus, the tunnel right to the beach is a huge advantage. There are a lot of historic places and the city offers a lot of areas to wander around.
I can't wait to go back to Lisbon!
Differentiation
Studies
The cohort is very international, so you'll make a lot of friends from all over the world in Portugal. Working with people from all over the world is not only a lot of fun but also helps to develop cultural awareness and social skills.
NOVA
The courses I had were very good and stimulating! The professors are very knowledgeable and critical thinking and hands-on projects are encouraged.
Additionally, the university offers a lot of extracurricular events such as a corporate fair, panel discussions, google ads workshops, etc.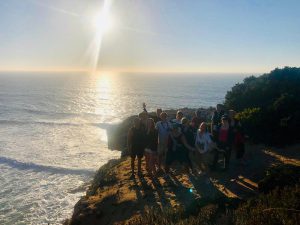 The campus is very new and very appealing. It's not in Lisbon but it takes you around 40 minutes to get there. On the other side, it's right next to the beach, offering a unique experience.
Portugal
Lisbon is a beautiful city with a lot to offer. Compared to other European cities it's fairly cheap and not so touristy (yet). The atmosphere and the people in Lisbon are incredibly nice, too.
Portugal is a gorgeous country with amazing beaches and other beautiful sights. You can have great road trips and weekend getaways.
Secret Tips
Isolation in the apartments is not really good; thus, try to get an external heater for the winter months.
Some restaurants and bars don't accept card payment so take cash.
Renting a car is fairly cheap if you check prices continuously and are a bit flexible.
Download "Bolt" as it's sometimes cheaper than uber.
Uber (/Bolt) is often cheaper than public transportation.
Try to negotiate prices when renting surf gear. If you want to buy a wetsuit check out Deeply or Decathlon.
Take a boat from Cais de Sodre to Cacilhas for a nice sunset and a view of the city.
Anything else you would like to share?
Enjoy your
time! Lisbon is a crazy city with a lot to offer.
Would you be okay with being contacted by future outgoings if they have questions?
Absolutely, hit me up on Facebook: Moritz John Zinnecker