Host University
UCD Michael Smurfit Graduate School of Business – Dublin
Spring 2019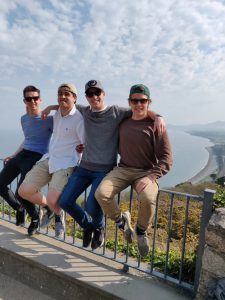 Organization
Generally, there is not much organization needed for EU-citizens in terms of documents. When it comes to accommodation, courses, etc. the local CEMS office provides detailed information and guides, which made the organization overall very easy and convenient. UCD's CEMS office is also very helpful in case you require assistance with anything!
Accommodation
I lived in the student residence (Proby) on the Smurfit campus. Getting a spot there was not difficult and I merely followed the instructions I received via e-mail. The residence is laid out for 6-people apartments, where everyone has their own room with bathroom attached and a shared kitchen living area. Living in the residence on campus was very convenient as it took me only 2 minutes to get to class and many of the other CEMSies also lived in the residence/close by. Thus, it was very easy to meet other people (also your roommates from other programs at UCD). The price is the only major downside, as the residence is very expensive (although accommodation in Dublin is very expensive in general).
Expenses
Rent: approx. 1000€
Food: 500€
Public transport: 50€ (really varies depending on the number of times you will be going to the city center and whether you have to commute to campus or not)
Books and course materials: –
Average beer: 7€ (beer in Dublin is pretty expensive, unfortunately)
Everyday life
Since the CEMS cohort in Dublin is rather small you will get to know everyone very quickly and likely spend a lot of time with your fellow CEMSies. I often had breakfast and/or dinner together with other CEMSies or my roommates. Because you are in Ireland, you will also regularly visit pubs, shout and dance to live music and enjoy massive amounts of Guinness or cider.
CEMS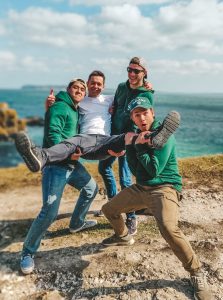 The local CEMS Club was a lot of fun when I was at UCD, though since the cohort is rather small it surely depends on how motivated the other CEMSies are to have a great CEMS Club. The CEMS office at UCD is also very engaged and tries to offer many interesting seminars and company visits. Overall, I had an amazing time as a CEMSie in Dublin, also largely because of the things described under Everyday life.
My top 3 CEMS moments:
CEMS Club trip to Northern Ireland
CEMS closing party
CEMS Club trip to Galway
Awesomeness
What I really enjoyed about Dublin as a city is that, while there is lots of stuff to do, the city feels super chill. It is not overrun by tourists, as many other European capitals are these days. The city has a great atmosphere, partly thanks to the amazing Irish people. They are surely among the friendliest people in Europe and are always up for a pint. Dublin is however also home to many people from all over the world thanks to Google, Facebook, and friends. Overall, this adds up to an amazing, multicultural experience in a charming city. So don't hesitate, get to the next pub and enjoy your Guinness!
Must do's in Dublin

Visit Howth on a sunny day, hike along the cliffs and enjoy fish & chips
Guinness Storehouse-tour (no debate about that)
Dun Laoghaire street food-market on a Sunday
Trips around the country (e.g. Galway, Northern Ireland, etc.)
Screaming out your lungs to "Mr. Brightside" in a pub
Have as much Guinness as possible
Would you be okay with being contacted by future outgoings if they have questions?
Of course! Feel free to contact me on Facebook anytime.