Host University
HEC Paris
Spring 2019
Organization
As an EU citizen, it's not too complicated to move to France. However, be prepared for spending some time with the insurance papers that HEC requires.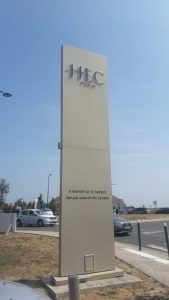 Accommodation
This part can be tricky at HEC. The campus is located more than an hour away from downtown Paris by public transport. Therefore, there are three possibilities when it comes to accommodation:
Campus – This is comfortable for school, but otherwise a very isolated choice. It's far from Paris and any fun activity outside of school. Also, as a master student, you don't have classes every day, so spending days off on campus can become boring.
Student residence ECLA (Massy-Palaiseau) – This option is a compromise between Paris and the campus, as you reach both within 45 minutes. The modern student residence ECLA is like a small hotel, where you have a lot of entertainment, free gym, etc. However, the area it's located in is suburban and has nothing else to offer. I lived here, and I think it was a good choice. It's important to convince other CEMSies to choose this accommodation option!
Paris – This is the priciest option, but who wouldn't love to live in Paris? The biggest downside is the 1.5-hour train ride to school (one-way). Usually, French CEMSies offer car rides to school (35min), but it's not always the case. However, living in Paris provides you with millions of possibilities to discover one of the most beautiful cities in the world. Many CEMS events take place there as well, and going out is naturally easier in the city.
Expenses
Rent: Campus 400-500€, ECLA 600-700€, Paris 700-1200€ depending on the district
Food: 300-500€
Public transport: Monthly pass Navigo 75€
Books and course materials: Close to 0€
Average beer: 7-8€ in a Parisian bar, way cheaper in grocery stores!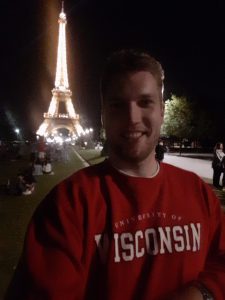 Everyday life
Your everyday life will depend a lot on where you live. You'll probably spend some time commuting to campus, but when you're free there are tons of things to see in Paris. Living together with other CEMSies (for example in ECLA), gives you the opportunity of traveling and coordinating activities together. In the weekends, there are mostly parties in Paris. And you shouldn't miss out on the weekly party on the HEC campus, the POW! Living in the Paris region offers something to everyone: culture, cuisine, sports, picnics (oh yes, get used to baguettes and wine in any park).
Awesomeness
France is an absolutely stunning country with great train connections – so you're basically only a couple of hours away from the sun in the south, the mountains in the Alps, the history in Normandy and whatnot. Take a youth card for the train company SNCF (Carte Jeune) and enjoy discounts when traveling all over the country. But in fact, staying in Paris is just as cool as traveling around. I've never felt less of a need to travel than in Paris as there is so much to see and discover.
Frankly, if you speak some level of French you will get more out of your stay in France. Usually, you get around in English, but to understand the culture and people you should learn a bit French. Language classes are offered at HEC so it's easy to start or continue learning. Speaking French also helps when trying to connect with local HEC students.
My Top 3 CEMS Moments
Boat party on a local CEMSie's family boat near the Eiffel Tower
CEMS welcome trip to Amboise (in a wine region)
HEC Gala – large, fancy party in a spectacular building in downtown Paris
Must-Do's in Paris
Eiffel Tower (too obvious??)
Notre Dame
Champs-Elysees
Le Marais district
Pparque Luxembourg
Sacre-Cœur
Pigalle night life
Oberkampf night life
Ddrinks and dance at Rooftop Café Oz
Play petanque at the river Seins
Bike around on city bikes
Louvre
La Defense business district
Louis Vuitton foundation
Have an apero drink at any street corner
Galeries Lafayette
Moulin Rouge
…and so, so much more – Paris is the BEST for sightseeing!
Contact
Definitely available if you have questions! (Samuel Salenius on Facebook)