Host University
Korea University Business School – Seoul, South Korea
Spring 2019
Organization
Visa: You should schedule about a week to apply for a D2 visa. Some nationalities can apply for a "Multiple Entry Visa", others only for a "Single-Entry-Visa". There might be visa fees, but they are pretty low.
Insurance: A foreign health insurance is very important as treatment abroad can be very expensive. The university did not offer insurance and there was no insurance obligation. However, I chose a German foreign health insurance.
Vaccination: For South Korea, you won't need any special vaccination. However, you will probably travel to other Asian countries so you should check the recommended vaccination.
Credit card and bank account: It is not necessary to open a bank account in Korea. With most credit cards you can pay free of charge in South Korea. However, withdrawing money will require paying a fee to the local ATM. If you have to make a bank transfer, I can highly recommend TransferWise.
Financial support: You should definitely apply for WU's "Joint-Study" scholarship.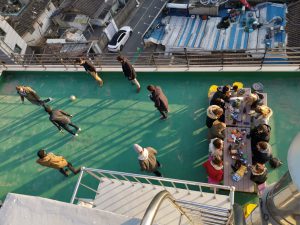 Accommodation
On the recommendation of friends, I decided to stay in the international student accommodation "Crimson House" which is located right across the main entrance of the university. The building has 5 floors with a rooftop and about 50 rooms. You can choose between room types A, B, C and D, which differ in size, equipment and price. I chose type A for 420,000 won per month. On each floor there are one or two shared bathrooms with showers and toilets. There are also two small seminar rooms for group work and a common kitchen with a stove, refrigerator, microwave, toaster, rice cooker, a few small tables, a television and washing machines.
Expenses
Costs per month: dormitory room 350 Euro, food and drinks 300 Euro, public transport 40 Euro, leisure 200 Euro, travel 200 Euro
Average beer: 1.50 Euro
Everyday Life
Language: In South Korea, not many people speak English, even the students at Korea University usually have poor English skills. Nevertheless, in the modern age, translation apps help you get along quite well, so you don't necessarily have to learn Korean. Nevertheless, I would recommend learning at least the alphabet.
Everyday life at the university: The CEMS classes at KUBS took place in cooperation with a group of Global MBA students and were quite easy. The university has a huge campus and the buildings look like those of a British boarding school. There are three cafeterias and numerous restaurants and cafes, a bank branch and numerous ATMs, several fitness studios, a large football pitch, an ice rink and much more. It is a tradition that the teachers eat and drink together with their students after exams or at the end of the course, which has always been a lot of fun. There are various university festivals and sports events, also in cooperation with other major universities in Seoul.
KUBA (Korea University Buddy Assistants): Foreign exchange students at Korea University are assigned to a Buddy Group. Each KUBA Group offers weekly lunch and dinner/drink meetings to foster exchange between the foreign and Korean students. In addition, various events and excursions are organized, such as a Cheering Orientation (where you learn the KU songs), a trip to the North Korean border or a walk to admire the spring blossoms.
Public transport: The public transport system in Seoul is very good. There are a large subway network and many buses. You pay with the "T-Money Card", which works similar to the "Oyster Card" in London.
Food: In South Korea, there is a large selection of good food – we all gained weight during our semesters abroad. Koreans love meat – vegetarians will have a hard time in South Korea. Since eating out is relatively cheap (dishes starting from 4 euros), we tested many restaurants during the semester. There is also a variety of street food offered by thousands of street stalls throughout the city.
Drinks: Beer, Soju, and Makgeolli are the most popular drinks. Soju is a kind of vodka with a lower alcohol content, which Koreans often drink at lunch. On average, Koreans drink the highest percentage of alcohol in the world – more than Russians.
Free time: As classes weren't too hard, we had a lot of free time, which we used extensively to explore the metropolis with 10 million inhabitants. We joined a cooking class, organized a temple stay, took pictures in the traditional "Hanboks", played games in a VR café and used the university's sports facilities. In the evenings we usually went out for dinner, had a beer on our rooftop, watched a movie in our kitchen or the cinema and went for karaoke.
Travels: South Korea has many national parks, traditional villages, beautiful beaches and much more to discover. With coaches or rental cars, you can easily travel through the country. Of course, you should use the opportunity to visit nearby countries such as China, Japan, Taiwan or the Philippines, as the flights within Asia are relatively cheap and traveling is easy.
CEMS
As our cohort consisted only of 16 exchange students, it was rather small. All home students spend only one year at KUBS – the first semester in Seoul and the second semester on exchange. However, all exchange students were super engaged with CEMS so we had an active CEMS life. We had multiple events (2-3) per week, ranging from cooking classes to informal dinners. We also involved other exchange students and alumni in our activities.
My Top 3 CEMS Moments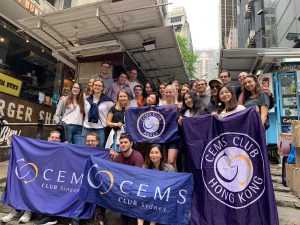 Trip to Hong Kong: Together with the CEMS Clubs from Singapore and Sydney, we organized a joint weekend in Hong Kong.
Temple stay: All Seoul CEMS students spent one weekend in a temple outside of Seoul with praying, eating vegetarian food and getting to know the daily lives of monks.
Farewell weekend: We had an amazing CEMS farewell weekend in Busan (in the South of the country)
Differentiation
I really loved the city of Seoul which has endless offerings. Life offers so much differentiation and is super exciting. You will always find a new part of the city to explore and every day has a new surprise in store. The exchange semester is a great opportunity for a new cultural experience from which you personally can take a lot in South Korea.
Awesomeness
I definitely had an awesome semester in Seoul. The CEMS students had a very close community and were like a family. I had a lot of unforgettable experiences during my exchange – Seoul was the right choice and I don't regret a thing! I had an amazing time in South Korea and I would choose KUBS as my host school again. Enjoy your time in South Korea! 🙂
Would you be okay with being contacted by future outgoings if they have questions?
Constanze Freyberger
Mail: [email protected]
WhatsApp : +4915155957925
Facebook: Constanze Freyberger