Host University
Ivey Business School, London, Ontario, Canada
Spring 2019
Organization
As a European citizen, you do not need a visa. However, you need to apply for an ETA (electronic travel authorization) which costs around 5 EUR. Feel free to reach out to the local CEMS coordinator in Canada if you have any questions. Most probably you will fly to Toronto and then either take a bus to London (~2 hours) or you can also change in Toronto and fly to London (~40 minutes).
Accommodation
I stayed at a dormitory owned and operated by The Marq. It cost 710 CAD and the rooms were equipped with furniture. A laundry machine can be found in the basement. Garage parking is also available for a fee. Do not forget to bring power adapters! The Marq at 75 Ann Street is where most CEMSies live, but on Facebook or Western's student housing website you may also find accommodation.
Expenses
Rent: ~710 CAD (480 EUR)
Food/Groceries: ~500 CAD (340 EUR)
Average beer price in the liquor store: 2 CAD (1.40 EUR) (in the cheapest bars it's 5 CAD)
Phone plan: 40 CAD (27 EUR)
Everyday Life
Transportation: The Marq offers a shuttle to Ivey. Sometimes I also took the bus (For 2.90 CAD you get a 90-minute ticket). Uber is also quite cheap. You pay around 10 CAD to get from 75 Ann Street to Ivey.
Sports: Western University offers many sporting events and has a very large gym with a swimming pool, squash courts, and soccer pitches. The Marq also has a gym. I also played in an intramural soccer league against other teams from Western.
Food: Mexican: BurritoBoyz; Sushi: heartsushi (all you can yeat). There are many other good restaurants, but it is also not uncommon to cook with your fellow CEMSies. You should also try some Canadian poutine! The cafeteria on campus is quite expensive (burger with fries for 12 CAD), but they have a lot of fast-food chains in the area and a few microwaves on campus.
Travel: You can take a Greyhound bus to Toronto which takes about 2.5 hours. We did that a couple of times. Detroit, Chicago, and New York are also reachable by bus/car but that can take up to 10 hours. I also traveled around the US after the semester.
Bars/Clubs: There are a lot of bars, pubs, clubs, and restaurants on Richmond Street in downtown London. Jack's (cheap food and drinks, dollar beers on Monday and Wednesday), McCapes (Wine Wednesday), Molly Bloom's (karaoke bar), Ceeps (bingo on Tuesday) and many more.
Means of payment: Tips in Canada are between 15 to 20% and the value-added tax is usually not included in the prices displayed. There are many ATMs but credit cards are generally accepted everywhere.
Shopping: There is a shopping mall (Masonville) about 10 minutes away by car where you can find all kinds of stores you would need. I also bought my phone plan there.
Weather: It can get quite cold in the winter. In some weeks we experienced temperatures of below -30° Celsius. So make sure you have warm winter clothes!
CEMS
There are classic CEMS events such as running drinks. Generally, the CEMS Club is very nice, but not as big as in Vienna. There are also events by the MSc committee that you can attend. I spent a lot of time doing work for classes or with friends/classmates. There is also a small ski resort a few hours away.
My Top 3 CEMS Moments
Welcome events and Responsible Global Leadership seminar: We went axe throwing, tubing, and bowling
Spring break trip to Mexico: There is a reading week in February. Many CEMSies decided to spend the week in Cancún, Mexico.
Patrick's Day: There was a huge party on one street (Broughdale) with everyone dressed in green.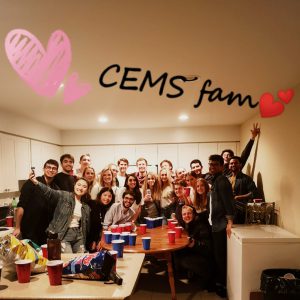 Awesomeness
Even though it might be a little cold in the winter, Canada has a lot to offer. The people are very nice and always happy to help and learn more about foreign cultures. Ivey is a great school and the community is amazing. Awesomeness level over 9000!
Differentiation
Ivey practices a case-based teaching approach similarly to Harvard which is why you may have already come across a case from Ivey. Two out of my three classes were only held for exchange students. The city of London, Ontario, feels like a small student town where most of the nightlife is happening on Richmond Street. You'll find a special every day of the week! Additionally, areas in which only students live, e.g. Broughdale Avenue, and the sports teams of the university provide a real North American college experience. I really recommend attending hockey, football games, etc.
Secret Tips
Uber can be cheaper than the bus.
Some grocery stores have student discounts on certain days of the week.
There are some bars with specials for Ivey students.
Canada is a big country that needs to be explored by many trips. Plan your class schedule accordingly.
The cafeteria at Brescia (a women's university on the hill behind Ivey) has more lunch options.
Live at The Marq if you want to live with other CEMSies.
Anything else you would like to share?
The semester in Canada is very short. Make the best of it and enjoy your time!
Would you be okay with being contacted by future outgoings if they have questions?
Sure, you can add me on Facebook (Paul Hilfrich), or send me an e-mail ([email protected]).