Host University
NHH – Norges Handelshøyskolen, Bergen
Spring 2019
Organization
As a European Citizen, there is not a lot of organization beforehand needed when it comes to bureaucratic matters. However, it is not a secret that Norway, and especially Bergen – is rather expensive compared to Austria for example. Even after growing up in Austria I can truly say that Norway is probably one of the most beautiful countries in terms of its nature and hiking possibilities. Therefore, I would recommend purchasing good hiking gear beforehand, but I will elaborate on that later in the "Secret Tips" 😉 Furthermore, purchasing good outfits for rainy days (boots, backpack, coat) is definitely a good choice. People are wearing, for example, rubber Chelsea boots on a daily basis there.
Accommodation
When it comes to accommodation, you really don't have to worry. For CEMS students, everything is practically set. You just apply for student housing via the organization 'sammen' when you get notified to do so. Most of the international students of NHH are staying in Hatleberg, the student housing right next to the Uni. CEMS students usually get prioritized when it comes to single rooms, which is really nice! You only have to indicate that you are a CEMS student and would like to have a single room when applying for housing in Hatleberg. I had a single room with my own bathroom and a shared kitchen (and gosh, that view from the kitchen was simply amazing).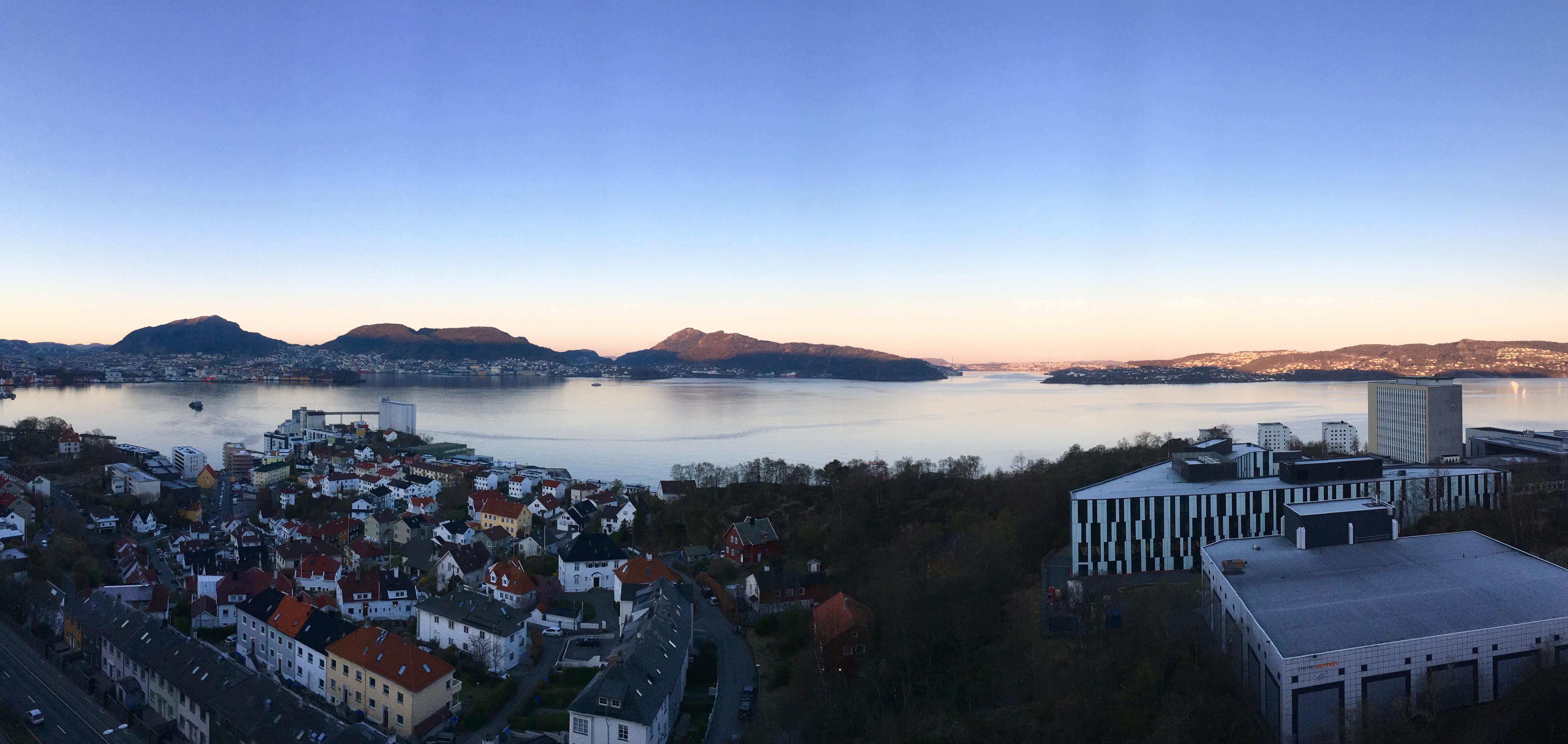 Expenses
Rent: €445
Food: €300–400 (Practically everything in Norway is really expensive. However, you're going to develop insane bargain hunter skills and with these, you can make it through the semester.)
Public transport: €48/month (there are weekly options as well. I would definitely recommend purchasing this since it incentivizes you to leave Hatleberg every once in a while and explore the surroundings and Bergen more often.)
Books and course material: no need to purchase any books or course materials
Fun: there are several things you can do, prices vary. (Hiking is for free :))
Gym: €100/semester (5 min walking distance from Hatleberg)
Average beer: €8-9

Everyday Life
Eating out: Really expensive, so we didn't go eating out that often. However, there are some nice spots to eat out in the city.
Cafes: Det Lille Kaffe Kompaniet, Chillout Café, Bergen Kaffebrenneri, USF Verftet.
Drinking: Beer at Hector's Hybel (€4 – a real deal in Bergen!!), Lukket Selskap (nice speakeasy in Bergen to enjoy some delicious cocktails), we used to buy drinks in the supermarket (beer) / Vinmonopolet (everything else) and have them at Hatleberg or in summer at the BBQ spot closeby.
Sports: sammen (gym, swimming, climbing, various sports classes), hiking (Bergen has some beautiful hiking trails, you could take up the challenge and do the 7 mountain hike, run up stolzekleiven, or simply hike up to Sandvikspilen and enjoy the amazing view over Bergen and the Nordic Sea.
Weather: Yes, it is true. It is raining more often in Bergen than it is in Austria. However, we were extremely lucky,  because during our term abroad there were apparently way less rainy days than usual during that period. So don't worry. Bring good rain equipment that you actually like to wear and everything will be fine. Due to its location at the sea, Winter in Bergen is not as cold as you would imagine and what we didn't expect at all: May can be fantastic. While it was raining heavily in Vienna, we went swimming in the North Sea, tanning and having BBQs until late.
Daylight: I have to admit it was really grey and dark in January, but I loved to experience how the days got longer and longer until you're sitting outside at the waterfront at 11 pm and watch the sky slowly starting to turn pink (literally).
CEMS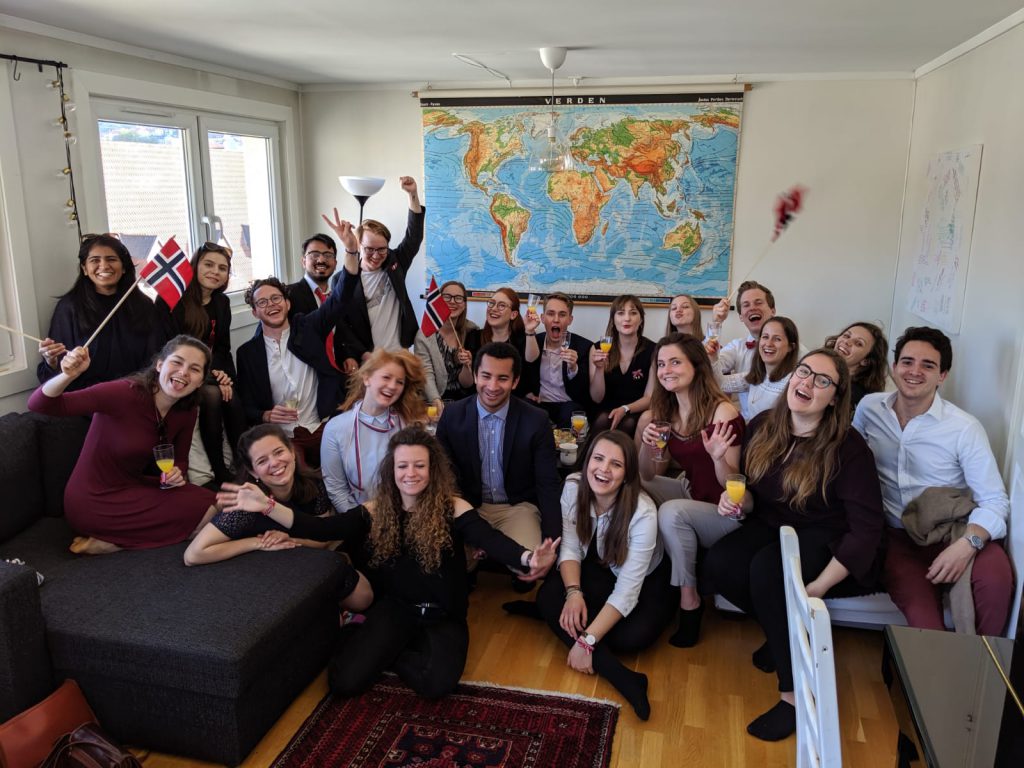 The CEMS spirit depends highly on the current cohort and their motivation.
For us, it was fantastic. We were really motivated to keep up the CEMS spirit we were used to from Vienna and create a CEMS family in Bergen. Since everyone practically lives next to each other in Hatleberg, it was easy to get to know each other rather fast and plan a lot of nice things to do.
The CEMS Cohort in Bergen in Spring is rather small. For us it was 34 people. That is exactly why it really depends on how motivated the people are. I would recommend applying for a position on the board to influence the number of events and the spirit in general 🙂 We had many many CEMS events, road trips, hiking trips, and even a weekly CEMS Après GMP, where we either went for drinks, curling, mini-golfing, etc.
3 Top CEMS Moments:
Cabin trip to Averoy. Stargazing while having a drink with my friends in the jacuzzi. Couldn't complain. ❤
17th of May celebrations. Norway's National Holiday transforms the city into one huge party location from early in the morning.
Trolltunga hike. 28km with sun, rain, and snow.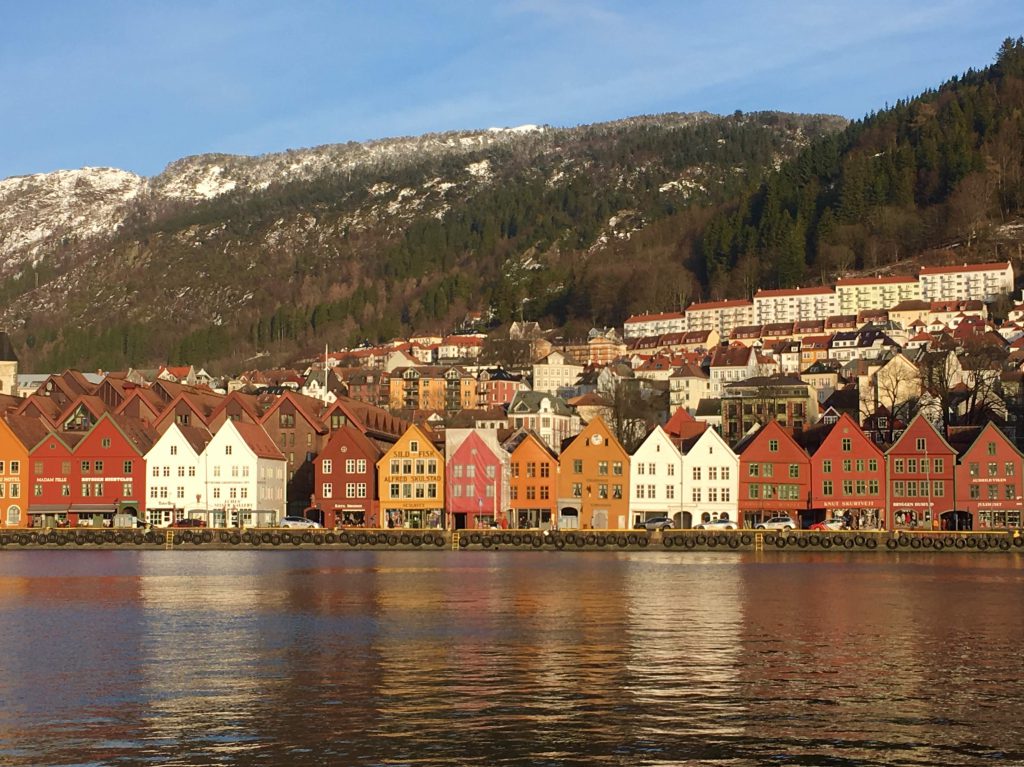 Awesomeness
I am a huge fan of vibrant cities, where a lot of things happen and you never run out of new things to do. Bergen is completely different! It's a really cute and small city, very expensive and honestly, at one point you're running out of things to explore within the city. However, the bunch of people we were surrounded by was amazing. And as probably most of you know, when you're with the right people you're not running out of fantastic adventures. Additionally, the nature around Bergen is phenomenal. Don't miss out on renting a car and exploring the rest of the country! Go to Stavanger (nice city!) and hike up to Preikestolen, take the 28 km challenge and hike up to Trolltunga, take a flight to Oslo and most importantly: try catching a glimpse of the breathtaking Northern Lights.
I'm already looking forward to my next chance to go enjoy the view of the Fjords from high up a mountain.
Differentiation
NHH
During the Spring semester, we had mostly CEMS mandatory classes as for example GMP, the RGL seminar and the business project. The course offer was very interesting though. I took another class called Business Model Innovation that I could recommend. The professors are very focused on the student experience, that we really learn a great deal and encourage hands-on projects.
Currently, the old part of the campus is being renovated. I don't know when it will be done exactly. The campus itself is not directly in Bergen, but an approx. 10 minutes bus ride from the center close to Hatleberg, as you might have figured by the abovementioned comments. The university offers many and nice opportunities to study, there is a library as well as several bright study rooms. There is a cantine where you can get some lunch at a reasonable price as well.
Secret Tips
Purchases beforehand: good crampons, warm hiking outfit, comfortable and waterproof hiking boots, rain boots (that you feel comfortable and stylish enough with to wear to uni as well), raincoat, waterproof backpack, cheese (because cheese is crazy-expensive there).
Shopping tips: download the app 'matilbud'. There you can find weekly discounts at all supermarkets. It's great.
Public transport tickets (Skyss) are also valid for 2 ferries starting from Bergen city center. It's a nice option to explore more around Bergen.
Download the aurora app: it shows and even sends you an alert in case there is a chance of seeing the northern lights. If the conditions are in your favor, hop on the bus line 5 and drive out towards IKEA and hop off as soon as you feel like you've escaped the light pollution of the city.
Go for cabin trips, cabin trips, and more cabin trips. It's amazing and so easy to find a super great cabin for a good price!
And then finally, the BBQ Spot 'Heleneset': a fantastic location for watching the breathtaking sunsets in Bergen and having a BBQ or just a couple of drinks with your friends.
Anything else you would like to share?
I didn't know what to expect before I got there, but I can tell you: we had an amazing semester. Don't miss out on exploring this beautiful country, soaking up the wonderful views and definitely go northern lights hunting whenever possible. ❤️
Would you be okay with being contacted by future outgoings if they have questions?
Of course! Feel free to contact me on Facebook: Julia Schwanzer