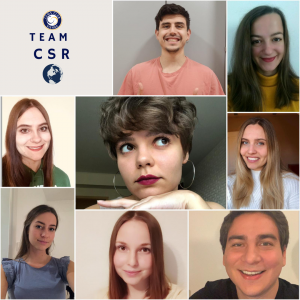 The CSR team of CEMS Club Vienna is working on raising awareness for social responsibility activities. The CEMS Global Responsibility Week in October is one of our most important periods during the year aiming at promoting sustainable business practice within the CEMS community at WU through various events. In line with the global CSR strategy, we want to move from having one-off events to providing ideas about how to integrate CSR into our daily life. Thus, there are three pillars to our work:
One-off CSR Events: We do our best to provide direct help to social organizations – either through on-site support or through raising money. For example, we cook for homeless people at the Gruft or bake and sell Christmas Cookies and donate the proceeds for a good cause.
Long-term Initiatives: In line with a more long-term orientation we want to establish and promote initiatives that go over the course of a whole semester. One such example is the MORE Buddy Program, which brings together regular WU students and refugees to facilitate integration and improve the German skills of the refugees.
Continuous Commitment: In order to increase awareness and provide ideas about how to live more sustainably on a daily basis, we organize events such as the CSR Challenge, Food Waste Evening and Kleiderkreisel (clothes exchange). Apart from that, we cooperate with other teams to make their events more sustainable, for example by including sustainability challenges in the Running Dinner or asking sustainability-related questions during the pub quiz.
The CSR team is very proud to work on such essential topics and tries to leverage its connections and management expertise to do something good for society.
If you have any questions or would like to get in touch with us, please contact us via [email protected].