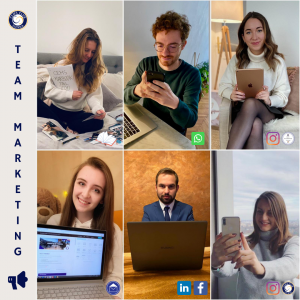 The Marketing team is responsible for the CEMS Club's communications strategy and operations. We manage multiple social media channels (Instagram, Facebook, LinkedIn, Whatsapp), maintain our official website and send you bi-weekly newsletters with everything you need to know to experience your student life in Vienna to the fullest!
In collaboration with all other CCV teams, we aim to strengthen our club's brand and positioning as an active, dynamic and motivated organization which offers CEMS students continuous support as well as valuable, diverse, insightful and fun activities. By sharing content on our website and social media, we provide insights about current and past activities to potential students, alumni and other stakeholders. This ought to make it easy to picture what CEMS life at WU is like.
As we are a highly active and large CEMS community in Vienna offering a wide range of activities, it is important to ensure we are addressing and involving our entire target group. Thus, we communicate via a variety of channels and on a frequent basis. Our aim is to keep CEMS students up-to-date and help them to not feel lost, but be well-informed and able to join all events they are interested in.
If you have any questions or would like to get in touch with us, please contact us via [email protected].